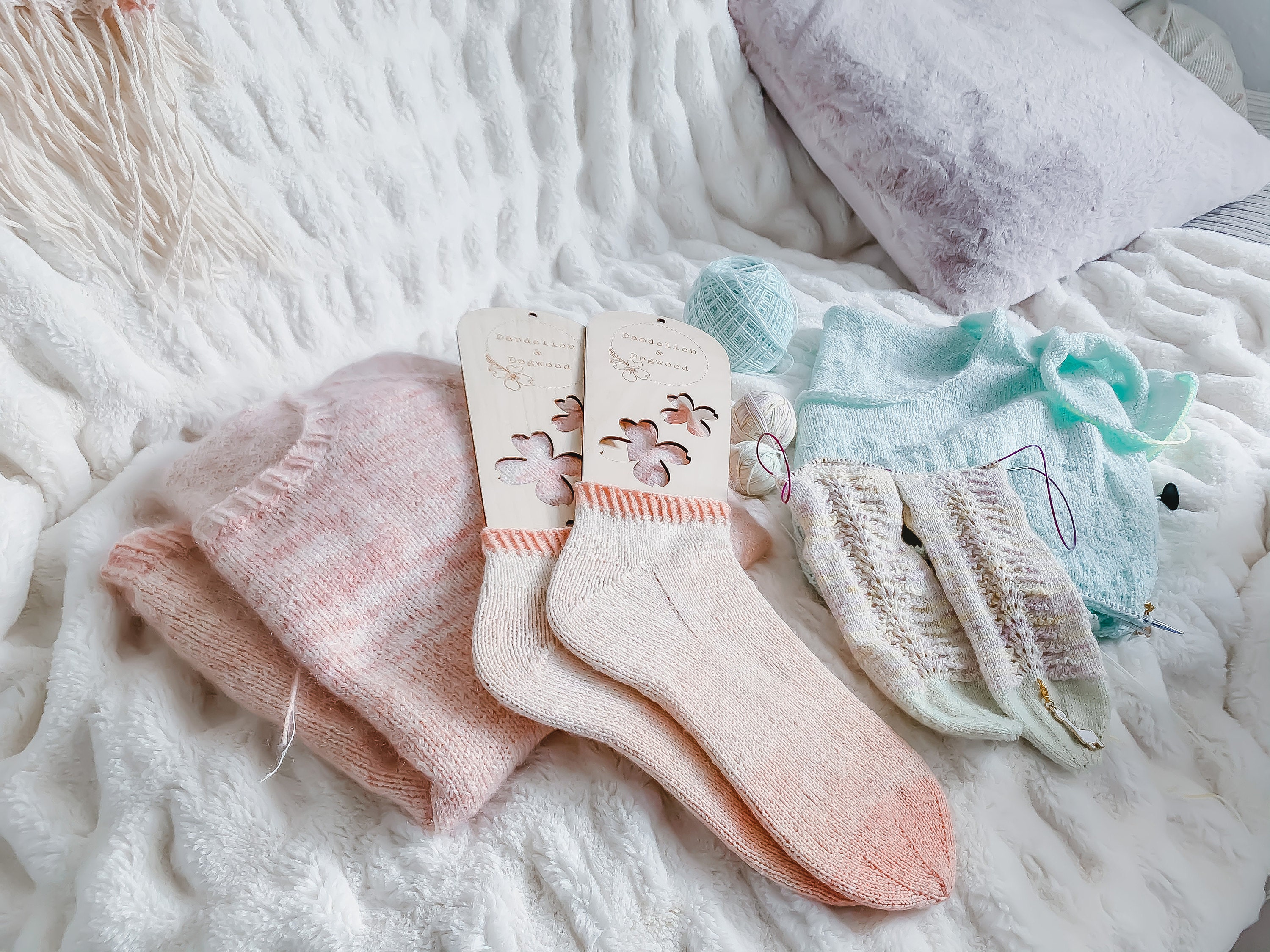 Pointe Shoes Fade Socks
Along Avec Anna Suzie Jumper
Soul Sister Socks
Matilda Jumper
Granny Stripe Blanket
Gardenia Stole
You can win a copy of the Gardenia Stole by Little Church Knits. Comment on the Podcast Episode on YouTube telling me which yarn you would use. If you choose an Elderflower Stitches yarn and win the Giveaway, I will include the yarn with your Pattern! Yay!
Sock Clubs are posted out each month and include a full 100g skein of Supersock in an exclusive colourway, plus a 20g mini skein of Supersock in a coordinating colour for contrast toes, cuffs and heels. Here is April's
My Pastel Pride collection is now available on Flossy, and other bases. Select the base you'd like from the drop down menu.
Finished Objects 
Sock Recipe:
Yarn:
Elderflower Stitches Pointe Shoes Mini Fade Set
Needles:
Knit Pro Nova Fixed Circular 2.25mm
Pattern:
Suzie Jumper by Along Aveca Anna
Yarns: 
Elderflower Stitches Pastel Pride Peach
Elderflower Stitches Bare Flossy
Needles:
Knit Pro Nova Interchangable Circular Needles 4.5mm
Pattern:
Soul Sisters sock pattern by Jooles and Ami
Yarn:
Elderflower Stitches March Sock Club (no longer available. Here is April's)
Needles:
Knit Pro Nova Fixed Circular 2.25mm
Pattern:
Along Avec Anna Matilda Jumper
Yarn: 
Elderflower Stitches After the Rain on Supersock
Pattern:
Attic 24 Granny Stripe Blanket
Yarn:
Elderflower Stitches Buttermint on Supersock
Elderflower Stitches Bare Opulence
Hook:
Pattern:
Gardenia Stole by Little Church Knits
Yarn:
Elderflower Stitches Pointe Shoes on Supersock
Needles: